Breast Cancer Awareness Night- Digging deep for PINK- Sheldon Volleyball
It is that time of year again when Sheldon Volleyball hosts our annual Breast Cancer Awareness Night Fundraiser Match! Both school programs will be working hard for the next few weeks to collect donations, auction items, pledge sponsors and promote the match so that they can wear their pink jerseys with pride on October 15th, 2015
 ***********************************************************************
2014 SUCCESS….. We officially met our goal for 2014 and actually surpassed it! The goal was set at $6,000 to honor our sixth year of fundraising and we pulled in an amazing $6,611.50!!! All in one evening of volleyball!  We want to give a special thank you to our heavy hitters who donated the big-ticket items into our Auction: Eugene Emeralds, Edgewater Home Furnishings, American Mattress, and Valley River Inn. We would also like to acknowledge our top contributors on auction night: The Feola, Spellman, O'Leary & Christofferson families. THANK YOU to all! We could not have done it without you!!!  
In the past 6 years, Sheldon Volleyball has now raised $22,770.50 for Breast Cancer AwarenessThank you all who have made that possible! Pictures from this year's auction…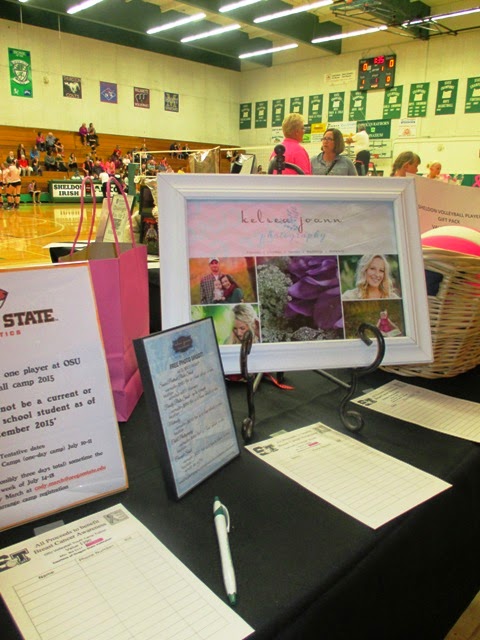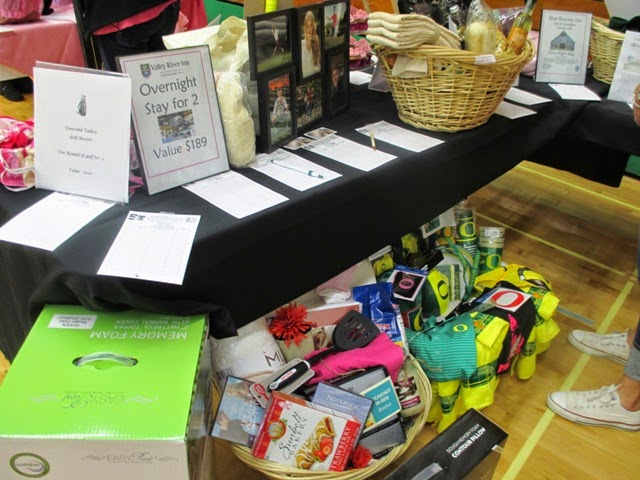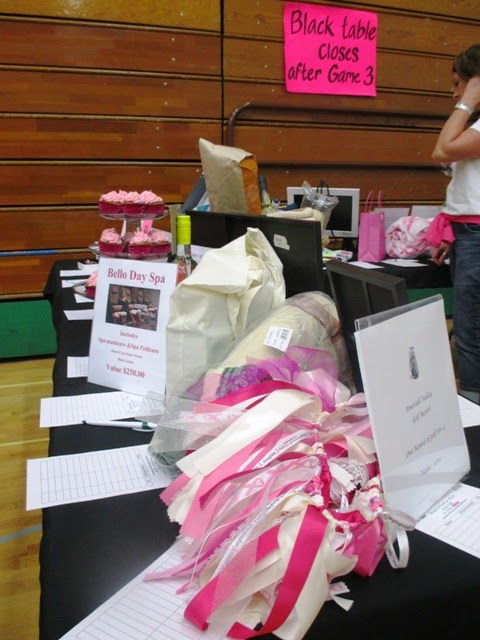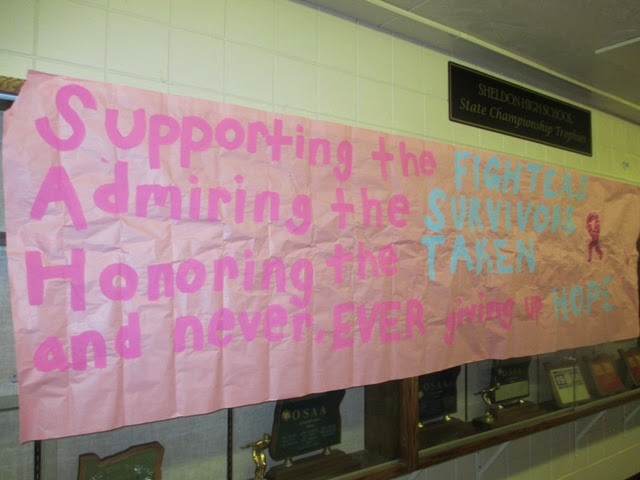 See you at the next fundraiser! 2013…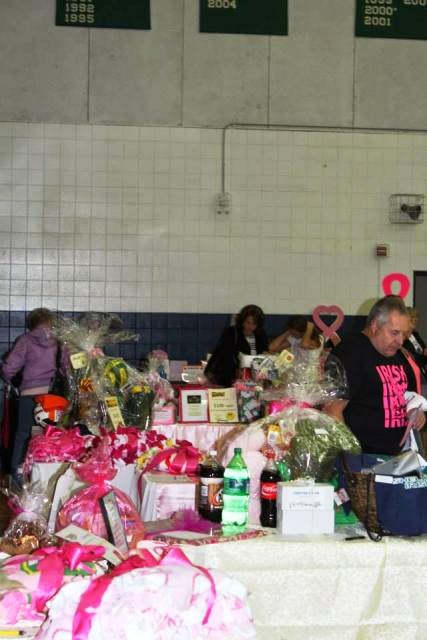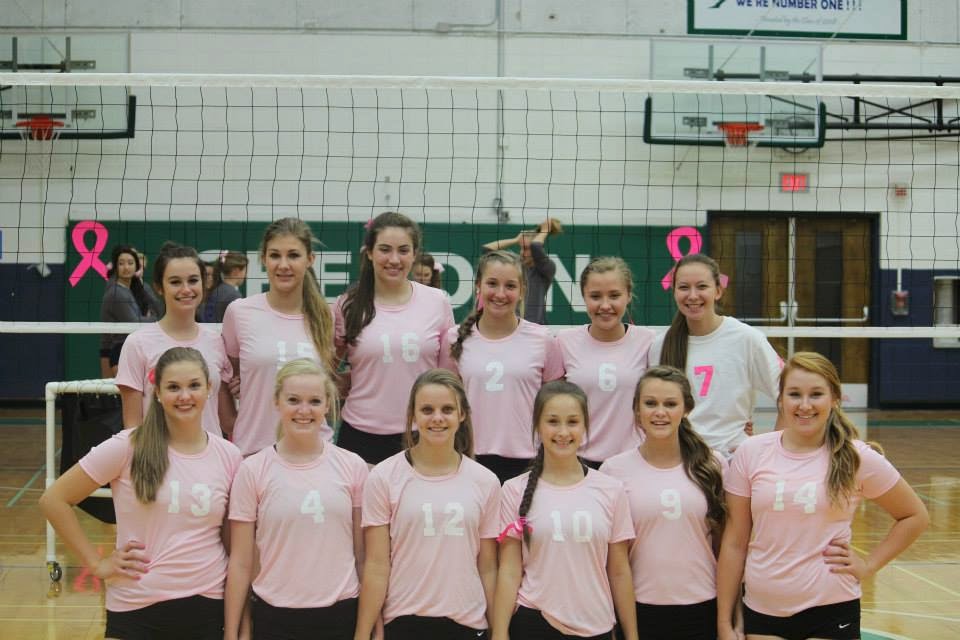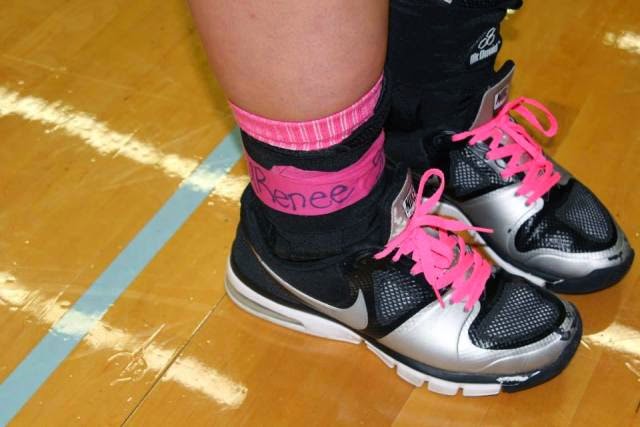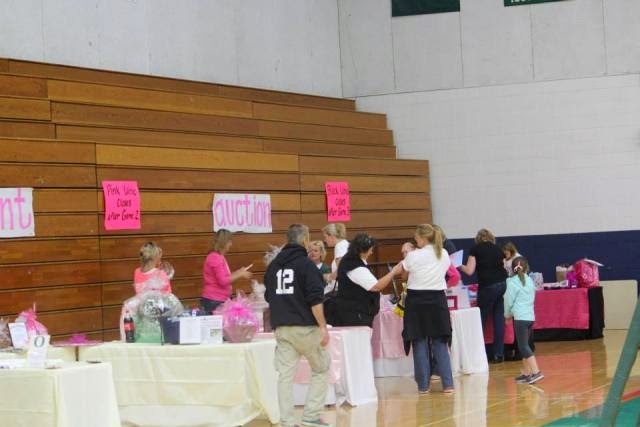 We do this fundraiser as a way to give back to our community but also
to raise awareness in young women as we are a sport of many. The funds that we have raised in the past 5 years have not only given hope to many fighters and survivors but have also changed the lives of all those involved. I still remember our first match 5 years ago when we only made $276 on a raffle for 3 fleece blankets the Varsity tied together. Last season we crushed our goal of $5,500 by raising an astounding $7,363.25 for the cause. This season is our 6th year and we have set our goal at $6,000. To achieve such goals we will need your help!  
It is important to point out how important the visiting school is to
this fundraiser night. Sheldon Volleyball can't do it alone and we have only
been so successful because of the contributions and effort made by both teams.
We rely on the visiting parents to donate auction items, BID at the auction and help us promote the game simply to get more people in the door. And it sounds funny but help us REMIND PEOPLE TO BRING MONEY THAT NIGHT!
How you can contribute:  
The main event for our fundraiser is the Auction (of course the
volleyball game too) where parents, spectators, teachers, and even community members bid on the donated items. We also sell t-shirts, wristbands and cupcakes, a percentage of the concessions will go to the cause, we collect direct donations, BOTH Liberos from each school will be sponsored per dig they achieve during the match so sign up for pledges when you get there!    
All money are deposited into an account in the school office for
SHELDON VOLLEYBALL BCAN. Then when the account is full, Sheldon Volleyball will write one BIG check to the American Cancer Society on behalf of BOTH Sheldon and Thurston Volleyball programs which we then present to a representative. We really want to emphasize that the moneys are donated on behalf of BOTH volleyball programs and no moneys are kept by Sheldon Volleyball. Every penny is donated in that BIG check! You can of course write your check directly to the American Cancer Society if you like and dedicate the memo to: Sheldon Volleyball Fundraiser Match. We will include the check with our donation it will just not be part of the BIG check total.  
How can you help us or contribute? ·        
Donate an item for the Auction!
We need as many as we can get big or small, preferably $10 minimum ·        
Donate a financial contribution to the Sheldon Volleyball School Account towards the BIG check. Send in a check for the American Cancer Society
that we will deliver with our BIG Check   
Sponsor a Theme Basket for $50 that we will put
together for you: Spa, Wine, Movie Night, etc ·        
Sponsor the Awareness Game itself and help us
make it a larger more advertised event by contributing any marketing on your media
sites
·
Sponsoring any of our evening fundraisers at the
game by purchasing the materials: o
We auction off tie fleece blankets that the
teams make, you could sponsor the fabric o
We sell wristbands; you could sponsor their
original purchase o
We provide pink ribbons to anyone at the door
who would like one, especially survivors o
The players toss pink candy to the crowd, send
us a bag o
The players get to wear pink T-shirt jerseys
just for that night, sponsor them! o
The players would love to come and give a
presentation at your business to promote the event, let them! o
We are open to suggestions! Any and all contributions made on behalf of the Awareness Match,
Sheldon Volleyball or Thurston Volleyball should be sent to:
Sheldon
High SchoolBreast
Cancer Awareness NightC/O
Cathy Nelson2455
WillakenzieEugene,
OR 97401 Donations are tax deductable and we will gladly provide you with the
tax ID number once we have received your donation.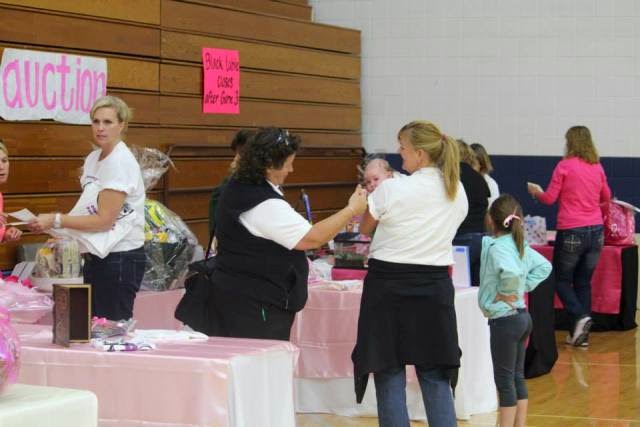 VOLUNTEERS! We also NEED your help that
night! On the actual night of the match we will need a lot of volunteers. We
need people to guard the tables during warm-ups, answer questions about the
auction, supervise the tables (for theft) during the games, move the tables
when they close, retrieve won items and clean up when the match is over.
Shifts: We'll need anywhere from 5-10 people per shift. Some
responsibilities overlap so just let her know when you want to volunteer and
we'll give you a job. JV parents typically volunteer during the Varsity Match
and Varsity parents volunteer during the JV matches. The Auction happens in the MAIN GYM and our JV2 team plays upstairs so you won't be able to see that match
if you are working the earlier shifts.
In 2013 BOTH schools gathered outside of the American Cancer Society Office on Coburg road to hand over our giant pink check! My original letter from when we first started….
 Last Year: Cash's first Fundraiser at only 10 weeks old